Does holiday stress have you so frazzled that you actually sneer at the song The 12 Days of Christmas? Well, good news for you: We've rounded up the top 12 ways to reduce that holiday stress so you can have a truly Merry Christmas and a happy, less stressed holiday season.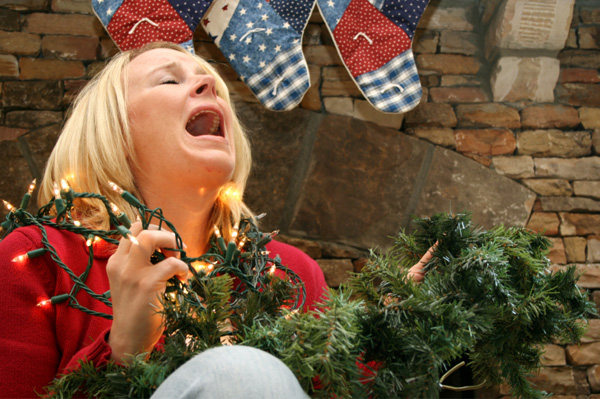 1. Deal with your family baggage
Coping with
stress
brought on by family
Do you happen to love the holidays but hate the baggage that arrives with members of your family? Sure, it is supposed to be the most wonderful time of the year, but if your family dynamics create gut-wrenching
stress
, December is probably the worst month on your calendar. This year, instead of setting yourself up for days of misery, put these tips into practice and hone your family coping skills. Your holiday will be much more enjoyable - and your mental health will thank you for it. Who knows, maybe your family will, too.
2. Catch a flick
Holiday movie list
Beat the holiday hell by taking a two-hour escape to the theater. With over 20 new movies opening this month, you can seriously "get away" nearly every day. Go alone or take a friend - regardless, even a movie's worth of time to yourself can help recharge your holiday spirit as well as give you something to chat about if you can't escape holiday party small talk.
3. Give and receive
How families can give back this holiday season
If your Christmas spirit needs a lift, gather your family together and help kindle the holiday spirit of others. Research shows that helping others may be the key to happiness. And if you think lending a helping hand isn't budget-friendly, here are five economical, fun and rewarding ways to give back.
4. Keep your kids in check
Surviving the holidays with your kids
Adults aren't the only ones who feel
stress
ed during the Christmas season. Children are quite perceptive and can take on your
stress
, as well. They also have a lot to be excited about and can send your blood pressure soaring when
stress
and excitement transforms them into unruly brats. Before you head out on a shopping trip or journey to see extended family, read this survival guide so you can effectively keep your
stress
levels in check and restrain yourself from leaving your kids with the stand-in Santa at the mall.
5. Spend less and stress less
Reduce holiday
stress
with smart shopping
If the current economy is putting a damper on your holiday gift-giving spirit, these holiday shopping tips can help you manage your Christmas budget, preventing you from becoming Ebenezer Scrooge. Just think, a holiday of less
stress
and
more money – now that is something worth celebrating!
6. Make it your kind of holiday
stress
less by doing what you want to do this holiday season
Learn the power of "no" and how to be politely assertive when faced with the myriad of seemingly inevitable holiday obligations. If, in years past, you wake up with anxiety every day of the Christmas season, it is probably because you tend to get stretched way too thin and, consequently, not spend your holidays in a way that is enjoyable for you. Learn how to artfully set boundaries with family, friends and coworkers this year so you can experience the true merriment of the season.
7. Stay frazzle-free by staying organized
Alleviate holiday
stress
with a little organization
Feel like there is no way you can accomplish everything you want done this holiday season? Good news: A few simple organizational techniques can make your holiday season frazzle-free. Starting out each day with a game plan can alleviate the typical
stress
that arises from the Christmas hustle-bustle, giving you a chance to breathe easy and actually enjoy this festive time of year.
8. Commit to making meaningful connections
Holiday survival checklist
Pull out this
stress
less list and check it twice - you really can get through the holidays in high spirits. With tips ranging from ways to tactfully navigate through family tension to how to make meaningful connections with your loved ones, this
stress
-reducing holiday checklist can give you the kind of Merry Christmas you've been hoping for (perhaps since you were a kid and dealing with some of the same family conflict still present now). And by following these tips, you are setting the foundation for your kids to associate the holidays with happiness and joy instead of
stress
and dread.
9. Make your gift-buying budget-friendly
Five budget-friendly tips to spend wisely and
stress
less
Regardless of the state of the economy, the Christmas season can be a financial drain. You've got kids and other family members to buy for, there's the gift-giving at work, and you can't possibly get through the holidays without giving to your church or a charity - but with every gift, you feel more and more stretched and less and less joyous. Before you opt to turn into the Grinch, give these five budget-friendly tips a try - they will help you figure out your spending power and how to put it to the smartest use.
10. Sing a little song
14 Best holiday songs
Though you may think listening to holiday music won't do much to alleviate your
stress
, load these Christmas favorites onto your iPod and just watch your holiday spirit arise. Music may not put money in your wallet, bake the cookies for your cookie swap, or babysit your kids, but it
can
improve your Christmas mood and make your holiday time much more enjoyable.
11. Bake a batch of cookies
Our best Christmas cookie recipes
Spend a quiet afternoon baking cookies by yourself or take the opportunity to spend a couple of sweet hours baking cookies with your kids. Relaxed time in the kitchen beats harried shoppers and grumpy salespeople. Best yet, your batches of cookies may just be the most appreciated holiday gifts on your list – especially if you use our five best Christmas cookie recipes.
12. Exercise to alleviate stress
Holiday fitness tips
Even if you are planning – or attending – a dozen holiday parties, shopping for your family and expecting holiday guests for the entire month of December, fitting in fitness can be one of the most effective ways to beat the Christmas season
stress
. And with these holiday fitness tips, you can easily get your sweat on without even leaving your kitchen!
------------------------------
------------------------------