The curse of reality TV show couples strikes again: Jon and Kate are dunzo. Are all television relationships doomed to the same fate?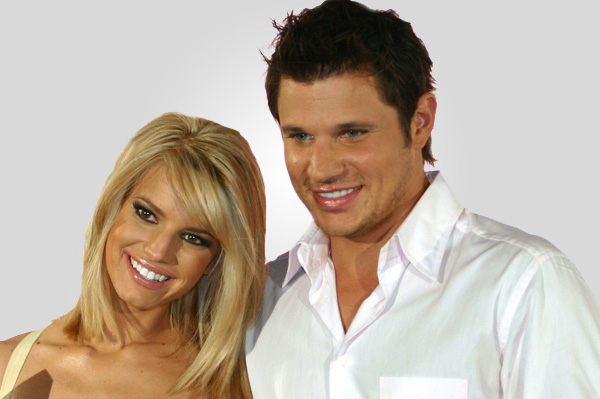 The jury is still out on that one. While the probing eye of the camera definitely exaggerates the same foils and foibles the rest of us mere mortals deal with, at the heart of it they're just regular people taking a shot at love. Our favorite reality TV show couples are no different: Some made it, some didn't, but all gave it their best shot.
Jessica Simpson and Nick Lachey, Newlyweds
Those golden days when Jessica and Nick gently bickered over her expensive underwear and his penchant for golf and camping were some of our favorite episodes of relationship reality TV. Watching the young couple's adjustment to married life with what seemed like polar-opposite personalities was sometimes funny, sometimes painful, but always entertaining. Sure, Jessica's dumb blond act got old after a while, but deep down we were rooting for those crazy kids. Sadly, the couple split, but Jess seems worse off without Nick than with him. But timing is everything, and since both recently ended long-term relationships, maybe the time is right for Newlyweds Part II: Reunited and It Feels So Good.
Ozzy Osbourne and Sharon Osbourne, The Osbournes
Ozzy and Sharon Osbourne are rock n' roll royalty. Their decades-long marriage is nearly unheard of in their echelon of fame, yet somehow they've made it work through many trips to rehab (themselves and their kids), financial difficulties and various health scares -- including Sharon's battle with cancer while filming their show. Besides wearing the pants in the family, Sharon has acted as Ozzy's manager since the late 70s and was the brains behind Ozzfest. Through all the madness, one thing has remained obvious: The genuine love they share.
Christopher Knight and Adrianne Curry, The Surreal Life, My Fair Brady
Twice-divorced Peter Brady meets blue-collar fashion model desperate for attention: Recipe for disaster or formula for love? The growing pains in this couple's relationship weren't always pretty, but they were always resolved through give and take. That's a lesson many couples not on TV can take to heart.
Heidi Montag and Spencer Pratt, The Hills
I know, I know. But these two have raised reality show drama to an art form and made themselves buckets of money doing it. Despite their ick factor, people can't seem to get enough of Heidi and Spencer, which is why the tabloids keep paying them stupid money to fake major life events such as their first wedding. This couple's sheer ingenuity and grasp of capitalism puts them several large steps ahead of most of us financially, and they do appear to have a good time together. Let's just hope they don't figure out how much tabloids pay for newborn pics.
Trista Sutter and Ryan Sutter, The Bachelorette
The world saw Trista get her heart broken on The Bachelor, only to have her own time to shine when brought back to choose her own man on The Bachelorette. She chose Ryan, a hunky Vail firefighter, and the couple wed in a lavish televised ceremony. Beating all odds, Ryan and Trista are still together, still happy, and the parents of two lovely children -- proving that the reality TV curse can be broken.
Jeff Probst and Julie Berry, Survivor: Vanuatu
Fellow contestants cried "foul" when news broke of Julie Berry's love affair with Survivor host Jeff Probst, but it turns out it was the real deal -- for a few years, at least. While some accused Julie of trying to obtain an unfair advantage, Probst told the press that, other than some innocent flirting in Vanuatu, nothing romantic happened between the two until months after filming wrapped. He even called her "the love of my life." Of course, in Hollywood-speak, "my life" means "a few years." The couple broke up in 2008.
Suzy Preston and Matt Hoover, The Biggest Loser 2
These "biggest losers" became huge winners both on and off screen, each losing more than 40 percent of their body weight and finding true love. "We have a lot in common. Going through something like we went through is life-changing," Suzy said when the couple became engaged in 2006. "We are not the same people we were before all this, and we are both at a point in our lives where we know what it's like to be fat and miserable -- and what it's like to be happy and healthy." Suzy and Matt now have two children.
Flavor Flav and Brigitte Nielsen, The Surreal Life, Strange Love
Nothing captivates the public more than odd couples -- and this pair was the oddest of all. The buxom blond Danish actress, who once was married to Sylvester Stallone, was still married to race car driver Raoul Meyer and engaged to yet another guy when she hooked up with straight-from-the-hood Flav, who gained his celebrity as the frontman of angry hip-hop group Public Enemy. The couple tried their hand at their own flavor of Strange Love, but ultimately, Nielsen went back to her Eurotrash lifestyle -- and Flav tried to find love again on his own show.
Rob Mariano and Amber Brkich, Survivor: All-Stars, The Amazing Race
They said it wouldn't last... but Rob and Amber have defied the reality-couple curse and survived two separate shows. The pair met while filming Survivor: All-Stars, and Rob quickly proposed while he and Amber waited to hear which of them won the big prize. While some accused Rob of hedging his bets -- ensuring he would get his hands on the grand prize cash one way or another -- the pair married on TV after Rob won the game and went on to compete in The Amazing Race together.
------------------------------
------------------------------