I just had what was possibly the worst date of my life. And I can't just shrug it off with a 'oh, well, c'est la vie' because I, a writer of dating articles and an advice-giver to my entire circle of single girlfriends, was the one who blew it.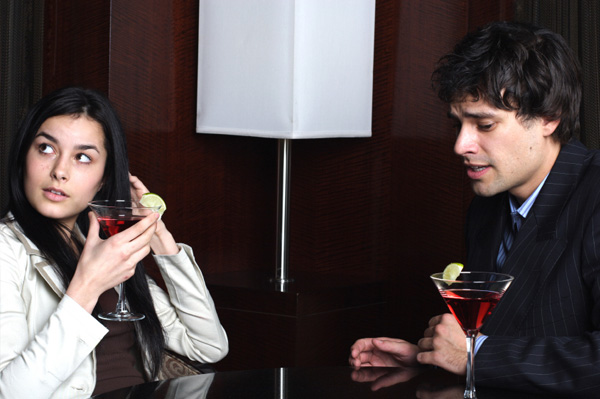 Ladies, heed my advice: No matter how many dates you go on or how jaded and/or savvy you may think you are, you too can fall victim to making these five, first-date mistakes!
Mistake #1: Talking About Your Ex (Under Any Circumstance)
"Well, duh," you may be thinking. Talking about an ex is always a big turn-off because no one ever wants to imagine that the person sitting across from you was ever with anyone else. No matter what you do – if you compliment your former S.O., it makes you look like you're not over him and if you trash him, it just makes you look like a jerk - or what the reason for your ending the last relationship, the fact is that you picked this person and it didn't work out. You made a losing bet and there's just no way to salvage that into a way that makes you look good. So even in tempting situations, such as when your date knows your ex or you're going dating while you're still with your ex, it's best to keep it zipped on all things involving your former love life.
Mistake #2: Talking About Religion and Politics
Just don't go there, not even in an election year or when you're living in an extremely liberal town and your 99% percent sure your date would agree with your opinions. You never know if that a dark-haired, gorgeous guy you met standing in line at Starbucks might be a Republican – just look at Mitt Romney.
Mistake #3: Talking About Any One Subject For Far Too Long
A quick anecdote about something that happened to you at work could be interesting to your date, but an entire evening spent discussing your career will make him think 'workaholic.' Same goes for your childhood, your friends, and 'how much you love to party.' Be sure to keep the conversation flowing to different subjects.
Mistake #4: Not Choosing the Right Date Scenario
First dates should be 'talking' dates and second dates should be 'doing' dates, i.e. dancing, seeing a concert, enjoying the great outdoors, etc. However, if you met in a social situation and have already done the whole get-to-know-you conversation (meaning, you have covered what each of you does for a living, where you grew up, and your favorite ethnic foods, etc.) then your first official date should be an active one. There's nothing worse than having drinks with someone two times in a row and realizing that although the conversation was effortless the first time around, you now have nothing to say.
Mistake #5: Sex
There will always be people who will claim that they slept with their now spouses on the very first date and everything worked out amazingly drama-free. But, as a general rule, whether you're just talking about it or actually doing it, sex changes the dynamic of a first date enormously and it's best to avoid it or at least be very cautious, unless you're absolutely, one-hundred percent sure that it's what you want.
------------------------------
------------------------------